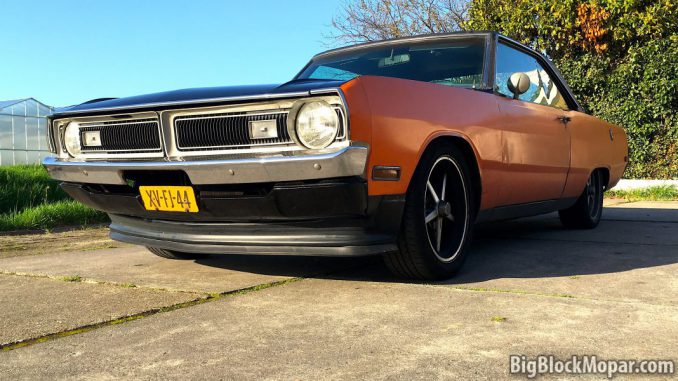 Today I decided the black paint on the Dart had seen better days. Way better days…
Instead of that lustrous deep black shine (lol) it once had, the paint was now resembling some kind of pale black with a hint of salted gray, or something like that.
So out came the can of black paint and a fresh paint roller again. After 'prepping' 🙂 the car with sandpaper to take out the 'highspots' of previous rol-jobs it was time for a quick rundown with a rag and some paint thinner. So much for preptime.
The fresh black paint was rolled onto the horizontal sheetmetal of the car again and the deep black returned!
Also the front spoiler received a soft rubber extention lip that lowered its appearance by roughly an inch.
The rubber itself was softer than I hoped for, so while probably not very effective, at least it did the job of making it appear the spoiler a tad taller and lower to the ground.
Once I stumble on a nice strip of similar shaped sturdy ABS plastic I will probably replace the soft rubber with that.
But for now it's fine by me 🙂