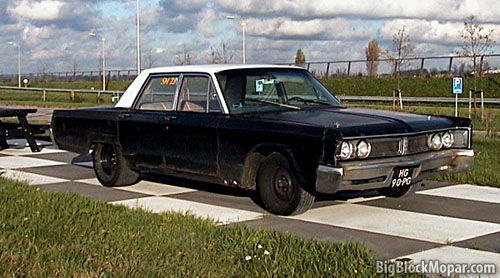 This car originally came with a 2-bbl 383ci engine, 727 automatic, and a 3.23:1 non-SureGrip 8-3/4 rear axle.
Here are the technical specifications of the car:
Engine
(1966) 440 +.030.
'915' heads w/ home port&polish.
2.08 / 1.74 MP valves.
Crane 1.5 Gold Roller Rockers.
KeithBlack Hypereutectic Pistons (237), zero-deckheight.
0.040 piston/head clearance. 11:1 cr (measured).
Erson Solid cam (256@050, w/ 0.534 lift) 2 deg. advanced. Crower Solid Lifters.
Edelbrock Double Roller Timing Chain.
Edelbrock Torker (old) intake manifold.
High Volume Oilpump with stock pan.
Mopar Performance windage tray with extra drainback-holes punched.
1-3/4″ Heddman Headers.
Mopar Performance elec. ignition w/ old black ECU.
Jacobs Inline CD Ignition System.
MP Steelcore ignitioncables.
Stock LY-rods. ARP bottom end.
Stock forged crank w/ org. bearingsizes.
Fully balanced assembly.
Solid steel engine-mounts.
800cfm Thermoquad. Tweaked acc. to DemonSizzlers recommendations
Carter Electrical Fuelpump w/ stock 5/16 fuelline.
Transmission
3800 Dynamic Stall Convertor. Transmission is stock
Rear axle
8 3/4 housing with 742 SureGrip and 3.91:1 gears.
Tires
325/50/15″ Mickey Thompson Sportsman Pro
---
---
Update: 2001-10-29
Installed my Thermoquad today. Had too make some 'trialruns' ahum, to tune it of course….
Just installed a set of 325 / 50 / 15 MickeyThompson tires at the rear. The babies are over 12″ wide, and fit without a problem. :o)
---
Update: 2001-09-05
Waiting inline at the Drachten-dragrace…
At shot of my car at an earlier race this year….
---
Update: 2001-08-26
Currently I'm swapping engines again. Last year's 440 will be back in the engine-bay…. Power will be restored!!! :o)
Bigger cam, higher stall-convertor. I've installed an Erson Racing Cam, 258@.050 with .534 lift. I'm using a 3800 Dynamic Stall convertor…. Might be 'fun' for a daily driver…
Here the patient is ready for the heart-transplant….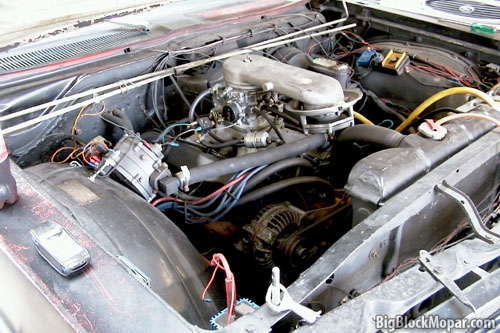 The engine, still with the Propane fuel-system installed.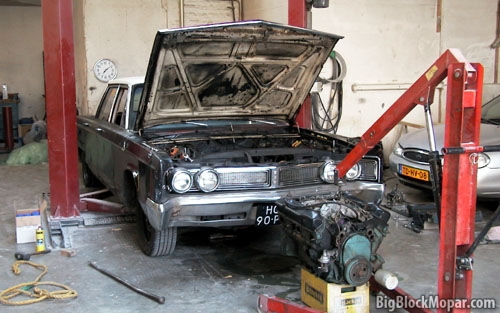 …4 hours later, the 383 is out of the bay….
…Here, it's 'new' but 'been there before' heart is waiting to get in….
---
I painted the car myself after I had enough of the red color it had before. It took 6 spraycans to do the whole car. I releaved the tired 383 from it's duty, and installed a well-used, running 440 in the car.
This engine lasted only a couple of months, as it had worn pistonrings. In that time it had broke the top-pistonrings in 5 cylinders !! After removal of this engine I installed my rebuilt 440, which is shown in the engine section on this site. In the mean time, I had swapped the rearaxle for an Imperial unit, which had SureGrip, but only a 2.91 gearset. First dragrace I did with this car showed a 14.7 on the 1/4 mile. And after I installed the biggest jets I had in the carb, it went 14.2! Still with the 2.91 gears in the back. I bought a set of 3.90 Richmond gears, and installed these in the axle.
The car has ran a best ET of 13.78 on the 1/4 mile as of yet. And this run was made with two worn lobes and lifters in the engine, which I found out later…
Last year I had this dual carb setup on the 440. It consisted of 2 – 625 Carter carbs with a simultanous throttle linkage. Straight out of their boxes, the carbs didn't require any adjustment other than idle speed. This combo had great throttle response. With this combo I made the 13.7 run, but only after I stepped up the jets quite a bit in the carbs.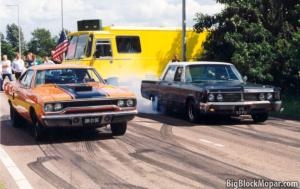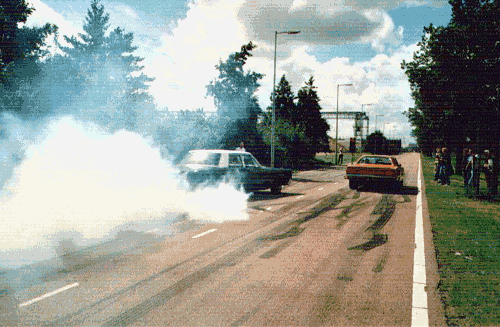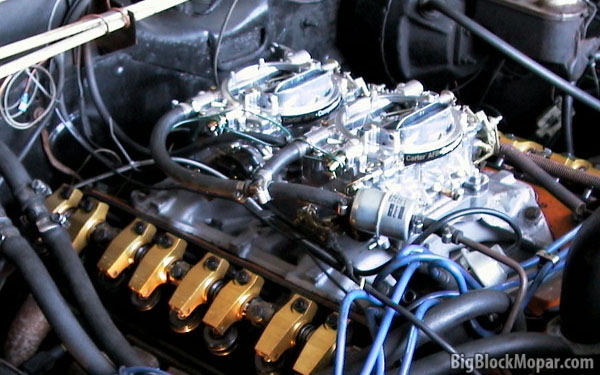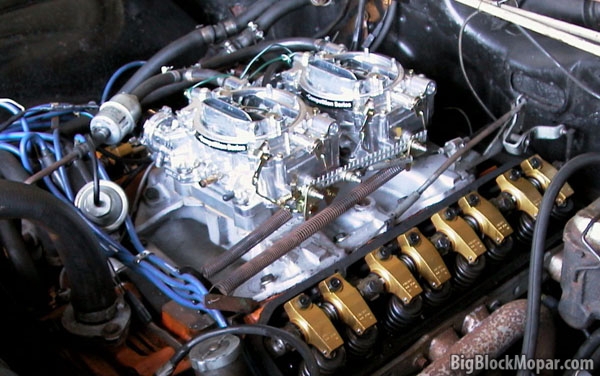 Here I am doing a burnout for a (illegal) dragrace against a 4-sp '70 Roadrunner…. [i]sssht! [/i]
---
This is how I bought the car….!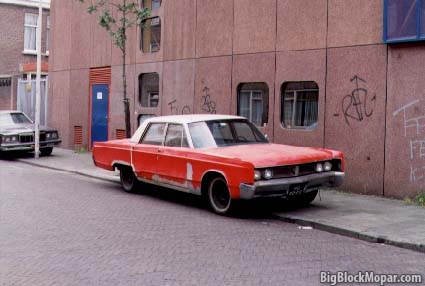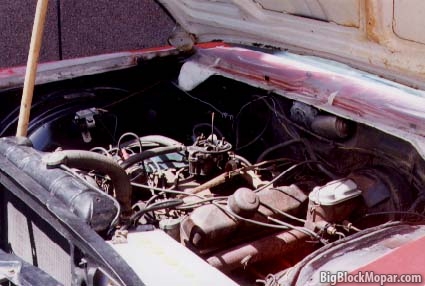 Blah!! An engine-bay without about 15 years of TLC!
Aaahh. That's a bit better.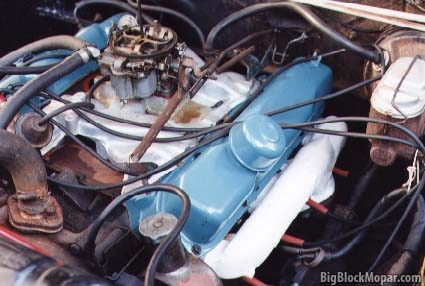 I once wet-sanded my car (on the street!!) because I thought I would paint it soon.
How wrong I was…. Five years later I still hadn't painted the car.. :o/