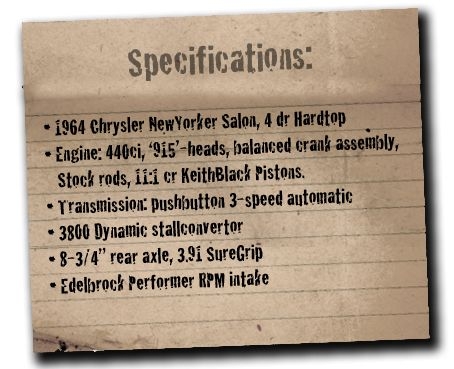 As the car was bought…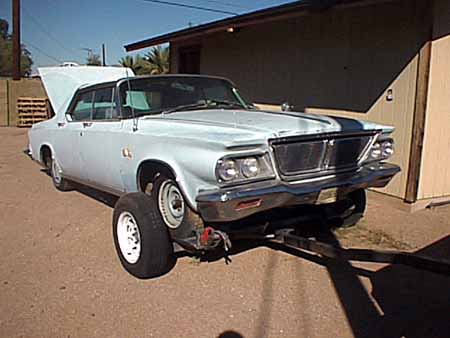 As delivered…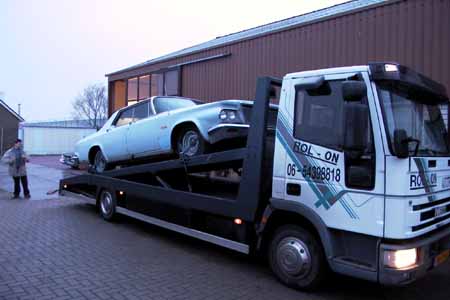 Some more pics…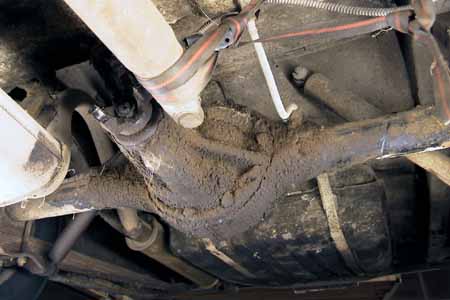 Vintage Stock date-coded muffler…
Steering-linkage…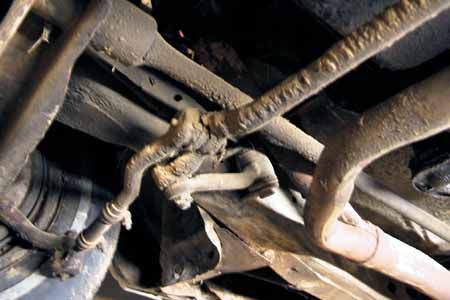 Paint scraping…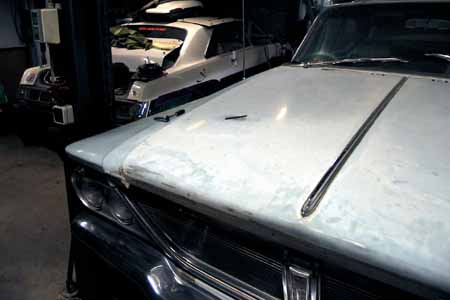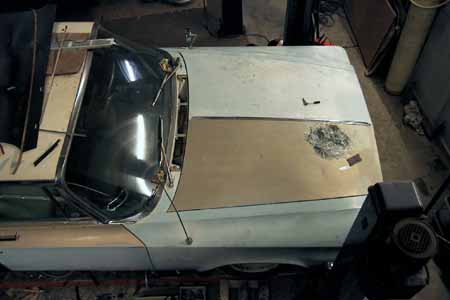 Painting the car a more serious color with a roller and some semi-flat housepaint…
Original 413 engine…yuck! No love to be found here…
Reinforced the motormounts 'slightly'…
Freshened-up frontsuspension…
Checking tires for fitment…
Installed some '71 Chrysler front seats in favor of the worn-down 250 lbs benchseat.
Engine-bay cleanup…
Before…

After…

Preparing 440-engine for engine-bay docking…
Engine-specs:
440, +.030″
Keith Black pistons, 11:1 cr,
Heads:
At first; 84cc Edelbrock Heads, but later on exchanged for iron '915' Heads, 1,74″ exhaust / 2.08″ intake valves.
Offenhauser dual 4bbl intake, 2 Carter 625cfm carbs.
Erson cam, mechanical, 256 @ .050″ dur. w/ .534″ valvelift.
1.5 Gold Crane rockers. ARP-bottom end. Fully balanced.
Stock crank and rods.
Thought about making some headers, 'cause no-one else does for this car…
Cutting up 2 sets of headers provide a lot of tube-material.
One set was of a b-body Mopar, the other of a Class A Motorhome, from which I used the collector-pieces…
Rear-axle cleanup…
New reinforced driveshaft…
DiscBrake-conversion (1973 Chrysler parts)…
Designing adaptor-plate to mount bracket on…
Trial-fitting / mock ups…
Computer-design of the adaptor-plate…
Final lasercut-result…
New front brakelines and linelock…
At the moment, the car is storage behind the garage because 'Project-60′ came rollin' in and I want to finish that first.
Also,
before the car went into storage, the 440-engine has been removed from the car as plans have changed.
At first I decided to make room for my 496″ stroker engine, but this engine has now been 'down-tuned' for now and will find it's way into 'Project-60' for the time being.
---