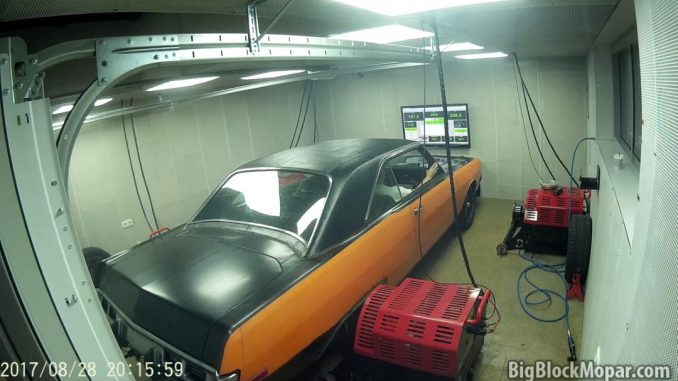 This years 28th of August was 'DynoDay' for the '73 Dodge Dart again. This marked the 3rd visit to the 'Ludwig Performance' chassisdyno.
After a bunch of changes since last year's dyno-runs I was curious what this had done for the engine's power output.
Last year's setup was as following:
– 318ci, 8.6:1cr, 4-bbl IMPCO Propane carb, Edelbrock Intake.
– Stock castiron exhaust manifolds
– Dual 2-1/4″ diameter seperated exhaust tubes (no crossover), 'pushed-in' exhaust bents, with 'Turbo muffler'-style mufflers and tailpipes.
– Stock mechanical distributor and vacuum adv, curved for best overal performance.
During the first dyno-session in 2013, the car made 145 HP.
At the 2016-dyno-session setup it put 169 HP to the rear wheels.
Current setup/changes:
– 318ci, 8.6:1cr, 4-bbl IMPCO Propane carb, Edelbrock Intake.
– Cold air intake
– Full length Doug's Headers
– Dual full 2.5″ diameter mandrell-bent exhaust system, SummitRacing X-pipe, Borla ProXS mufflers and tailpipes.
– Mopar 'Lean Burn' distributor (no mechanical or vacuum advance), just for providing a trigger-signal for the MegaSquirt ECU.
– MegaSquirt digital ignition ECU, controlling ignition timing through a 7-pin GM HEI-module and MSD Blaster-SS e-core coil.
I knew the exhaust-system was too big for the little 318 under the hood. But I had anticipated on the 360 engine soon to be installed.
So here comes the kicker…
In short, after another seven dyno-runs it became painfully clear, the car, even with all the updates, made 8 HP less than last year!
Even though the ambient temperatures were 10° C degrees warmer than last years Dyno-session, my theory is that the exhaust system is way too much for the amount of exhaust produced by the little 318 engine (and its bone stock cam). The too large diameter probably causes the exhaust-flow/speed to be too slow in the tubes and no/hardly any scavenging is taking place, so the engine has to keep pumping all the exhaust out itself.
Although, even with the full length headers I would have expected at least an increase in power against last years performance numbers, but it didn't pan out.
Dyno-charts, videoclip and MegaSquirt logs of the dyno-session will follow later.