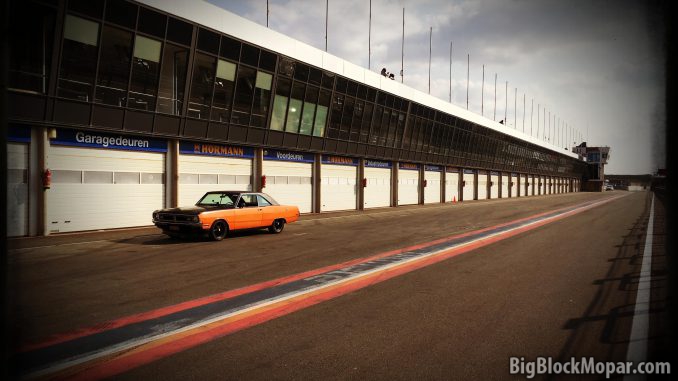 Last sunday I was finally able to spend some time on a racecircuit with my '73 Dart. The track is at the Dutch city of Zandvoort.
The tracktime event was a 20 minute event that let you run around on the track with other cars.
No race, just free tracktime to gain experience and get a feel of how your car is behaving.
First thing that became apparent quickly was how difficult it is to slow down enough for an unfamiliar corner. And how difficult it was to 'see' the corner, especially when the track has elevation changes, being on the dunes right next to the westcoast.
On the street, the brakes and tires on the car do their job just fine, but on the track, with higher speeds and relative tight corners, that's a different matter.
With high speed-braking, the rear drum brakes get hot easily and some fading is noticable.
Also learned that the tires needed some heat to become better, as during the first lap I slid off track, into the gravel pit when I couldn't slow down quick enough for a short right/left corner.
I was able to keep driving through the gravel and find my way onto the track again.
Luckily, there were only 5-6 other cars on the whole 4+ km track, so re-entering the track was easy.
Another thing I learned, during the 4rd lap, was that the transmisison tube really should have a sealed dipstick, as some ATF came out during hard left-cornering.
After I started smelling some ATF, I decided to drive into the pitlane and find out where the smell of ATF was coming from.
With only a few minutes driving time left for the event and not wanting to spill more ATF, I decided to call it a day.
The event was Great fun.
My main goal was to find out how the car would handle during cornering. How much bodyroll and such.
I had adjusted the front Hotchkis shocks to full stiff, and added 2 clicks on the rear QA1 shocks, above the 5 clicks from 0.
For a next time I will be upgrading to better brake pads, add rearbrake cooling, better tires, and hopefully more engine power as well. But the car's 234 rwHP were reasonably adequate, for now.
Short clip, video'd by a visitor, showing the Dart coming into the corner.

Speeds were obviously still slow, as it's a bit unnerving trying to go round an unfamiliar racecourse.