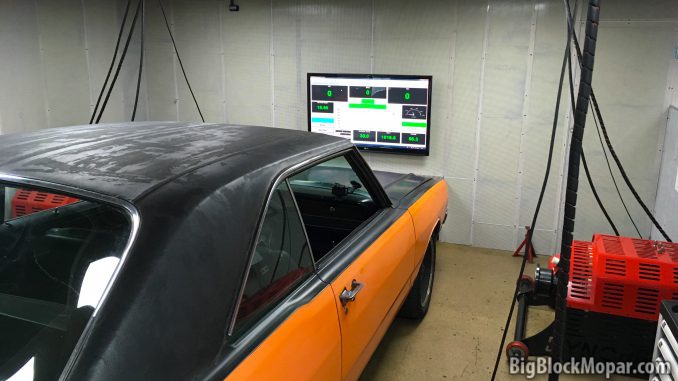 Had the Dodge Dart on the chassis-dyno again last monday at Ludwig Performance in Hillegom, The Netherlands. This is DynoDay number 4 already!
The very first DynoDay with the 318ci engine 'managed' a shameful 145hp at the rearwheels.
During DynoDay #2 I managed to 'up' this to 170hp.
DynoDay #3 was equally shameful as the upgrade to full-length Dougs headers, 2.5″ X-pipe exhaust and Borla Pro-ST mufflers proved no improvement at all at that time on the dyno. The 318 engine probably want it and was quite happy with the old exhaust and castiron manifolds.
Now, at DynoDay nr. 4, the installation of the high compression 360ci engine made some welcome difference this time.
The Land-and-Sea Eddy-current Dyno showed 234hp at the rear wheels this time.
To recoup, here are the specs of the current engine and drivetrain;
– 360ci engine, 11.3:1 compression ratio.
– '302' casting (318) steel heads. Polished chambers and ports. Stock valves.
– 0.028″-0.030″ Piston-to-head quench distance.
– Keith Black hypereutectic pistons.
– Edelbrock Air-Gap intake.
– CompCams XE256H hydr. cam, "converted-to-solid" hydr. lifters, 1.5 adj. rockers.
– Balanced crank assembly, stock stroke crank and rods.
– Propane LPG fuel, IMPCO 425-carb with IMPCO 300 E-vaporiser.
– MegaSquirt ignition timing control only.
– A518 / 46RH OD-transmission (no lockup), stock '60s stall convertor.
– 3.55:1 gear ratio in 8-3/4″ rear axle.
First run was about 216hp, and after we played around with the MegaSquirt-controlled ignition timing and tuned the AFR with the IMPCO 425 carb, the end-result was 234hp at 4700rpm.
Best Torque was one run earlier with almost 400 Newtonmeter (with is around 295 ft/lbs).
Although it was getting clear by looking at the AFR-curve, the 6mm fuel-line and mainly the restrictive old lockoff valves are becoming a restriction as AFR started to lean out above 3800rpm.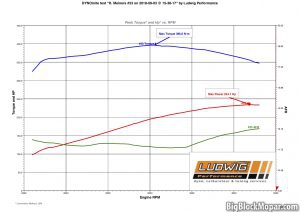 Shown below is a video-clip of all the combined dyno-runs and on-screen dyno-results: