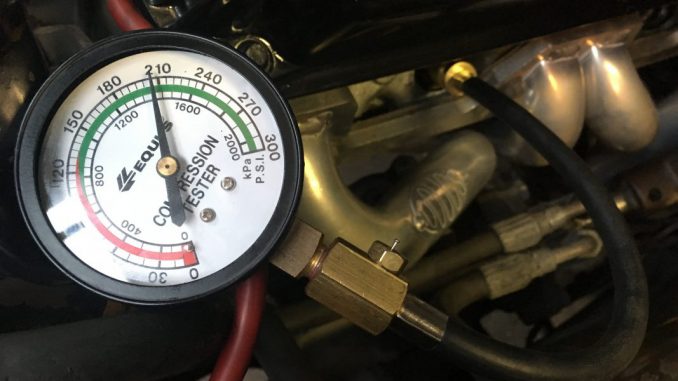 The first attempt to do a cranking compression test on the 360ci engine resulted in varying values simply because it was too difficult to press the tester tightly against a sparkplug hole and crank the engine with the other hand. The engine having 11.3:1 static compression doesn't help either.
I tried to do a second test with help of a friend, but the gauge's readings went off the scale this time and maxed out the old/vintage compression tester. This 'push-on' style tester 'only' goes to 12 BAR, which is about 174 psi and the engine's cranking pressure easily surpassed that it seemed.
For the third attempt I bought a hardly used screw-in compression tester which could measure pressures just over 20 BAR, or 300 psi.
This gave much better results.
I did 2 consecutive compression tests in a row, following the left and right engine banks from front to back.
On the first test I got values ranging from 195 to 208 psi, but on the second test straight after the first, almost all the cylinders provided between 208 and 210 psi cranking compression. The only cylinder which was a tad lower was cylinder no.6, which had 195 psi.
During the testing I had the carb wired wide open and the engine temp was around 135°F.
After the starting the engine afterwards I measured all the exhaust header tubes near the heads and noticed pretty much all the tubes having a temp of around 200°F, but cyl.#6 was about 240°F, indicating this cylinder wasn't running as optimal as the others.
The vacuum gauge in the car shows this as well, as the needle is bouncing rapidly with a swing of 2″-4″ gauge-inches.
Starting with a 2″ swing when cold and increasing to a 4″ swing when the engine is warm.
This vacuum needle behavior is pointing to a valve-guide or valve-seat issue. Given the compression test is down about 10-15 psi, I would think the valve doesn't seal as good as the others in the engine.
Some headwork is probably required to fix this problem.
---