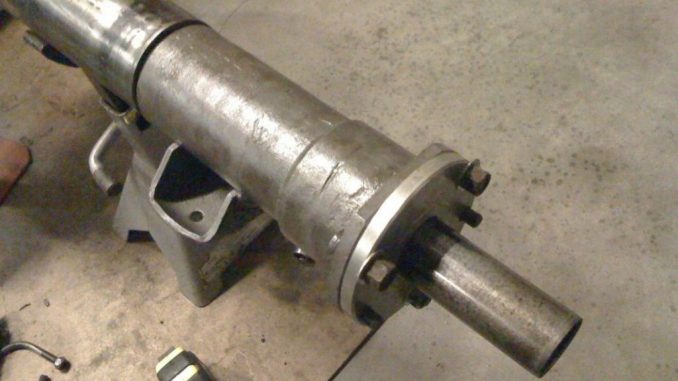 I've recently started making a beefier, 8-3/4″ replacement rearaxle for my '73 Dodge Dart.
The car's current rearaxle is a flimsy 7-1/4″ version, with huge backlash on the gears, worn out drums AND only a 4″ wheel boltcircle. The front wheelstuds of the car already have a 4.5″ boltcircle, so this rearend is def. not worth it to spend any money on.
Since Mopar 8-3/4″ A-body rearaxles are hard to find, expensive and if found, usually also still have 4″ boltcircle wheelstuds, I decided to shorten an existing axle housing. Just for kicks!
I found 2 big 5″ rounds of aluminium and turned these into axle housing alignment spindles on my lathe. Two for the bearing-ends, and two for inside the 3rd member housing.
I pulled a larger Chrysler C-body rearaxle out of my 'scrap pile' and cut the bearing ends of the housing with a pipecutter. After that I also cut off the amount needed to shorten it from the housing.
In the mean time I had ordered a pair of brand new stock A-Body size axles at DoctorDiff.com
After a while I noticed something not right with the housing ends I had cut off earlier.
The rearaxle I had used was from a 1960 Chrysler, and upto 1964 these cars had a different type of axle, and I learned that day, therefore also different axlehousing ends.
So out came the pipecutter again and I pulled another rearaxle out of my partsstash… but this time I used a 1965 rear end.
Now it was time the measure the angle at which the housing ends (and springperches) should end up at so everything goes well when the rear end is mounted under the car.
So out came the trusty iPhone with that nifty 'Clinometer' app installed!
After carefull measuring I tacked the housing ends in place and started measuring again, for good measure ya know…! After I "OK'd" my findings, I rotated the powerswitch on my welder onto setting "fullthrottle", and I was off melting steel..!
I had never welded heavy/thick steel before but after the first inch or two I felt comfortable and welded the rest aswell, welding 1-2 inches at a time, at opposite sides.
I also mocked-up some (Cherokee?) discbrakes I had laying around to see if a discbrake conversion is feasible aswell.
And there we are, one rear end, properly sized for a Mopar A-body…