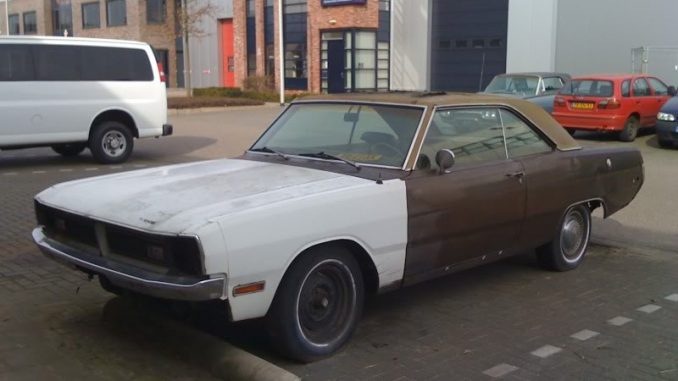 Recently I've bought myself a '73 Dodge Dart. It has a 318 smallblock, auto, powersteering and brakes and runs on propane. I'll be fixing it up and will be using it as my dailydriver pretty soon.
The Dart is a '73 model but the previous owner installed a '71 frontclip on the car. He also installed 4.5″ discbrakes, rebuilt the front suspension and powdercoated the K-member. But the car has been parked outside in the weather for some 6 years after that, so I knew I had some work to do.
Crunchy bubbles full of rust where popping up under the dry-rotted vinylroof near the rearwindow so that had to be fixed.
After I got the car in my garage I started tearing into it. Ripped the old vinyl off the roof, removed the worn benchseat and doorpanels.
Turned out the driversside front floorboard was toast aswell so I got a 2ft.square piece sheetmetal and started hammering and welding it in place. After the floorwelding was done I covered it in a coat of black paint.
I didn't like the brown interior so out came the panels to be cleaned and painted with black vinylpaint again. The dash remained in the car but I painted it black aswell, along with the steeringwheel.
Instead of the original frontbench I've installed two black leather seats out of a BMW I've had laying about for years. I do plan on installing an original Dart center console with shifter as well after a while.
I'm painting the car a two-tone scheme. The sides in orange and the horizontal sheetmetal will be painted black. All in semi-gloss paint, applied with a roller.
I'm currently installing a new black vinyl top that came with the car.
Below you'll find a number of pics of the car, as bought, and it's current progress on it;