496″ Longram stroker engine build:
– 440, +.030 oversize
– Hawks Racing 4.15″ stroker crank, H-Beam rods, 10.5:1cr ROSS Racing pistons.
– Fully balanced crank assembly
– Edelbrock heads (84cc)
– CompCams XR274R-10 – Mechanical Solid Roller cam, 236/242 @.050 Duration, Lift .564/.570
---
Further mockups and assembly…
After deciding in which car I wanted to put this engine, I ended up deciding for my 1960 Chrysler NewYorker.
The complete 'the picture', a pair of original early '60s Chrysler Long Ram intake manifolds were installed on the engine. This ment however a couple of things on the engine had to changed before this would fit, like factory valve covers for instance. Also decided to change the UltraDyne cam for a much milder hydraulic cam, which would work better with the long ram intakes.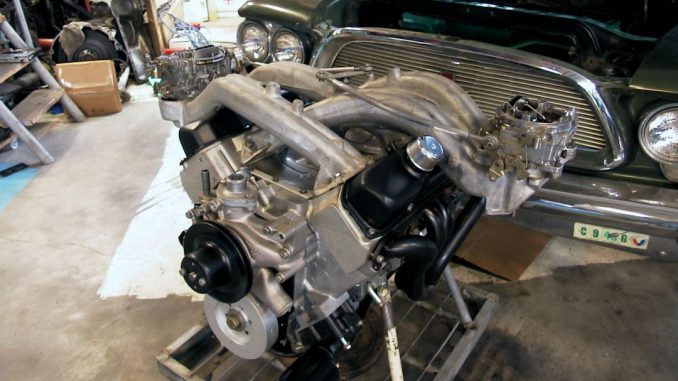 At first a camshaft was chosen which I had laying around (Ultradyne mechanical cam, 255 @ .050″ w/ .582″ valvelift) but this was changed later for a mild cam that worked better with the LongRam intake manifolds.
Then again, 2 years later I decided to run a solid roller cam in the engine.